CGDI Prog MB Benz Car Key Add Fastest Benz Key Programmer Support All Key Lost
Manufacturer Specifications

Payment

Shipping
CGDI Prog MB Benz Car Key Add Fastest Benz Key Programmer Support All Key Lost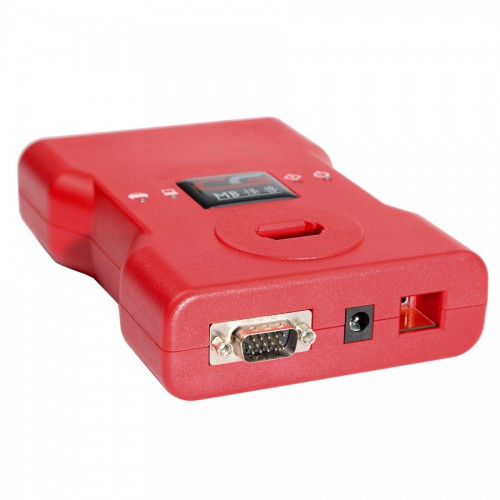 CGDI Prog MB Benz Car Key Add Fastest Benz Key Programmer
Top 4 Reasons to get CGDI Prog MB:

1. Support fastest Benz Car key add: collection time 1'50s, password calculation time 40s, 99% get password for one time calculator, it is the fastest key programming tool to calculate the password at present.
2. Support MB all key lost: support models including 211,209,204,207,212,166,246,197,172,164 +, 216
3. CGDI Prog MB can calculate the password twice free each day (free for 180 days only)
4. Free Update Online on official website http://www.cgprogcar.com/?langid=en, when you receive the device, please download software on official website too.
How to activate CGDI Prog MB?
CGDI Prog MB needs activation when you receive it. Please follow the steps as below:
1. Download Benz Monster software from official website http://www.cgprogcar.com/?langid=en, there will be user manual too in the software catalogue
2. Install software on your laptop and read out serial number of your CGDI
3. Pass serial number to our customer service, when activation is done, please restart CGDI Prog Benz and the Benz Monster software, it will be ready to use.
What is the token policy for CGDI Prog MB?
1. CGDI Prog MB can calculate the password twice free each day for the first 180 days (from the day you activate device)
2. It will cost usd70 for another 180 days tokens, please pay to Tokens for CGDI Prog MB Key Programmer. After you pay for it, can calculate online two times per day too. (to get new authorization for tokens, it will take about 12hours after you pay usd70 to us)
3. If you have CG100 PROG III Airbag Restore Devices and CGDI Prog BMW MSV80, pls pass us serial number to bundle them together, you will have two more tokens, which means 4 free tokens per day.
And if you have CGDI Prog BMW MSV80 only, we can bundle with your CGDI MB too to have one more token per day, which means 3 free tokens each day.

CGDI MB 2.5.0.0 Update (2018-03-13):

1. Add ELV repair function, including: enable ELV, virgin ELV (repair damage ELV chip)
2. Add the function of BE key to save file directly
3. Add W205, W218,W166 FBS4 EIS type detection
4. Add save EIS data format flags.
5. Fixed the problem of part of the ECU,TCU,ISM/DSM/ESM cannot erase

CGDI MB Benz Monster updated 2.4.0.0 2017/12/29

1. Add activation Key function
In the case that the EIS cannot activate the key and the key lamp steady, it can be activated manually with the Benz Monster.
2. Add detection FBS4 key type function
Currently do not support the acquisition, engineers are being overcome, please look forward to.
3. Add View wiring diagram function (Menu-Wiring Diagram)
Contains EIS, ELV, ECU, ISM, TCU wiring diagram.
Download: https://www.dropbox.com/s/grcy0cz2vaw651s/BenzMonster_2.4.0.0_Setup.exe?dl=0

Benz Monster 2.0.0.0 2017/11/11 Update Info:

1. Calculate the erase password function (including the engine computer, ISM computer, EGS computer, ELV)
2. Calculate the key to enable the password function (you can directly use the disable key)
3. Erase the lock function (support CAN protocol, K-line protocol)
4 write lock data function
5. Write frame number function
6. Activate the lock function
7. Clear the TP protection function
8. Calculate the key current track code function
9. Add to determine whether the dealer lock
10. Fix problems that can cause the program to crash under certain conditions
11. Optimization part pop-up prompt box to enhance the stability of the program
12. increase some tips, the operation experience more accurate
CGDI MB Prog Function List:
Able to add keys on Mercedes Benz and program a new key when all keys are lost.
Add new Mercedes Benz keys: Data acquisition for 1 minute 50 seconds, pin code for 40 seconds and 99% success.
Program a new key to the following models when all keys are lost: 211, 209,204, 207, 212, 166,246,197,172,164+, 216 etc.

EIS/EZS Function:

1). Can read EIS data via OBD, no need to distinguish the EIS/EZS model.
2). Can display the key status and directly disable the key position.
3). Can display EIS Number, can distinguish the Benz model
4). Can display EIS status.
5). Automatically identify EIS model.
6). Automatically identify CAN protocol

Generate the Key Data:

1) Can generate the key data of HC05/908/912/9S12/NEC EIS/EZS
2) Time: 26 seconds
3) Format: 11/ 41/51 (41 format is smart key data)

Infrared Key Function:

1) Can directly read key pin code via infrared on parts of 209/211/220/215 EIS.
2)Can read/write EIS via infrared.
CGDI MB Prog Programming Key Features:
1). Automatically identify the basic key information (including how many times you used SSID)
2). Can directly read pin code of BE keys via infrared, can erase BE keys.
3). NEC adapter can write the original Benz smart key and common key.
4). Can write the Benz original key via infrared.
5). Can restore the data of key and EIS with the key password.
CGDI MB Prog Benz Car List:
Mercedes-Benz A series (2004 -)
Mercedes-Benz B series (2005-)
Mercedes-Benz C Series (2001 - , including 210)
Mercedes-Benz E Series (2001-, including 203)
Mercedes-Benz CL series (2001-)
Mercedes-Benz GLK (2004-)
Mercedes-Benz ML series (2003 -)
Mercedes-Benz R series (2003 -)
Mercedes-Benz G series (2003 -)
Mercedes-Benz S Series (2001 -, including 220)
Mercedes-Benz SLK (2003- )
Mercedes-Benz SLS (2004 -)
Mercedes-Benz Vito (2003-)
Mercedes-Benz Sprinter (2003 -)
Mercedes-Benz Vito (2003 -)
How to Use CGDI MB Programmer Add Key for Benz?
CGDI Prog MB is able to add Mercedes Benz car keys as well as program new keys when all keys are lost.
Step 1: Click on "Lock (EIS)
Step 2: Click on "Read EIS data"
Step 3: Click on "Computer Password", then click on "Copy key with key"
Step 4: Click on "Other Keys" (One generation of key 705E6 key), then click on "OK".
Step 5: Please insert the key into EIS and click OK.
Step 6: Please insert the key into the device and click on OK!
Step 7: Collecting the data, do not remove the key.
Step 8: Please insert the key into EIS and click OK.
Step 9: Please wait for 7 seconds.
Step 10: Please pull out the key from the EIS, and then click OK!
Step 11: Please insert the key into the EIS again and click OK!
Step 12: Unplug the key for 5 seconds, then insert the EIS, then click OK!
....
Step 34: Select chip type.
Step 35: Note: Smart key please choose 41 format, common key and BE key please choose 51 format!
Step 36: Select the location of writting key, then click on "Open".
Step 37: CGDI MB Write key success!
Step 38: Password display area, write down the password manually.
BE key read password directly, no need to collect data!

More detailed with operation picture,please read our article below:
User Manual for CGDI Pro MB car key add
CGDI Prog MB Benz key programmer review: all key lost works fine
CGDI MB Prog Package List:
1*CGDI MB Multiplexer
1* NEC Key Adapter
1*IR Adapter
1*OBD Cable
1*USB Cable
Skype: obdok2012
Whatsapp:+8617313018731
Email: sale@obdok.com
Write a Review
Tell us what you think about this item and share your opinions with other people. Please make sure your review focuses only on this item. All reviews are moderated and will be reviewed within two business days. Inappropriate reviews will not be posted.
After-sales questions and issues: Contact our Customer Service Department. (A customer representative will get back to you).
Please Sign In first if you want to later edit or manage reviews uploaded by yourself.
Bookmark It