EWS3 EWS4 Test Platform Plus BMW CAS Test Platform
Manufacturer Specifications

Payment

Shipping
BMW & Land Rover EWS3 EWS4 Test Platform- Rechargeable Plus BMW CAS Test Platform
BMW CAS Test Platform
BMW CAS Test Platform can fast check CAS (CAS2/ CAS3) and key working or not without connecting to BMW, it works with BMW new and old models including: BMW 1 series, 3 series, 5 series, X5 and X6. BMW CAS Test Platform is very suitable for repairman and training material.
BMW / Land Rover EWS3 EWS4 Test Platform- Rechargeable
It can perform 3 functions as follows without connecting to the BMW:
1, Able to test EWS3, EWS4 working or not
2, Able to test whether the PCF7935 chip or EML electronic chip key complete programming or not.
3, Able to test EML key electronic chip working or not, and test after fixing EWS data.
Packing List:
1pc x BMW CAS Test Platform
1pc x BMW & Land Rover EWS3 EWS4 Test Platform- Rechargeable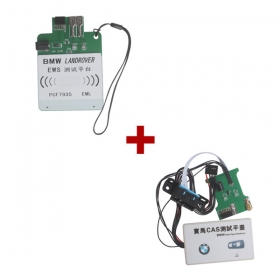 Write a Review
Tell us what you think about this item and share your opinions with other people. Please make sure your review focuses only on this item. All reviews are moderated and will be reviewed within two business days. Inappropriate reviews will not be posted.
After-sales questions and issues: Contact our Customer Service Department. (A customer representative will get back to you).
Please Sign In first if you want to later edit or manage reviews uploaded by yourself.
Bookmark It